"What if...?" 4 what-ifs that make students panic during a Stimulus-based Conversation
"What if my mind goes blank and I fail to say anything?"
"What if I answer the questions wrongly?"
If you are a student that has undergone at least one stimulus-based conversation (SBC) as part of the oral examination, then these dismaying and distressing questions may not sound too foreign to you. Despite it being a short 10-minute assessment, many students feel daunted by the ever-so-scary SBC. As they crumble in the face of having to answer three or more conversational questions posted by the oral examiners, dreadful what-if questions often flood their minds, further amplifying their fears and anxiety.
In this blog post, I will be sharing 4 common what-if questions that make students panic during SBC, and of course, some handy tips to help you better manage these unnerving scenarios. For each question, the do's and don'ts are tabulated clearly for your perusal.
1) What if I could not hear or understand the question posted by the examiners?
Under the condition of stress and anxiety, you may find yourself having to put in more effort to comprehend what someone is trying to say to you. Alas! You find yourself in a situation where you are not 100% certain of the question you have been posted. Now, do you just panic and try to make an intelligent guess on what the examiner has asked? The answer is — absolutely no.
Remember, asking for clarification is better than making assumptions, which puts you at the risk of misinterpreting the question and giving a totally irrelevant answer! As much as you think that your assumption makes sense because of the information you have gathered from the stimulus, it is always better to be safe than sorry.
To sum up:

Stay calm


Request for clarification


Avoid staying silent or making guesses

2) What if I mispronounce a word or make a mistake in my response?
Not only is mispronouncing a work part of a common what-if questions, it is also one of the most commonly committed mistakes. Confronted with a question you did not expect, you may tend to lose your nerves and start rambling your response, in hopes to quickly get the assessment over and done with.

When you ramble and babble and blather on (see what I did there?), you expose yourself to the risk of making grammatical or pronunciation mistakes. When this happens, try not to panic. Here are some suggestions for you to deal with your unwanted blunders.
To sum up:

Repeat the whole sentence with the correction


Request to rephrase yourself if you have to alter the entire point


Avoid informal words and slangs

3) What if I have minimal knowledge of the oral topic?
No one expects you to know extensively about every single topic in the world! It is absolutely normal for you to come across topics of which you have little to no knowledge. Of course, we always attempt to tackle this issue by encouraging students to regularly read up on relevant news and topics. You may also check out this blog post to learn about some of the more commonly-discussed oral topics.

However, if you are still concerned about getting thrown a topic that sounds like an alien subject to you, then these following tips may help you in a way or two.
To sum up:

Be honest


Focus on what you feel and think rather than what you know


Gather information from external resources


Positive body language
Last but not least, the ultimate what-if!
4) What if my mind goes blank and I can't find a single word to say?
This is, perhaps, one of the greatest fears experienced by students, even the ones who are armed with sufficient knowledge on different topics and amazing ideas to share. Think of it this way: what is the point of having a fully-powered portable charger if it is unable to unleash its power to charge your devices? Unfortunately, this mind-blanking phenomenon can happen to anyone, especially when we are situated in an uncomfortable or stressful state. Hence, it is critical for you to know what to do if you find yourself in a situation where your mind simply fogs up and refuses to work the way you had expected it to.
To sum up:

Take deep breaths to calm yourself down


Tap on relevant sample answers and vocabulary you have previously studied

In a nutshell, it seems apparent that no matter what scenario you have got yourself into, it is extremely important for you to stay calm. Composure is your best friend! Refrain from rushing to be done with your responses. Allow yourself some time to think through your answers before verbalising them. With a composed and prepared mind, you will be invincible against these daunting what-if questions.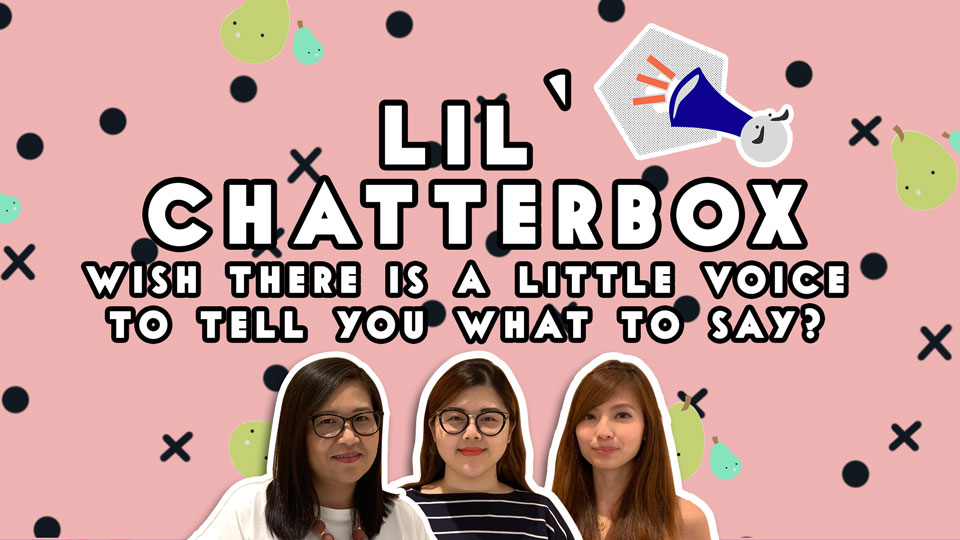 The Lil' Chatterbox Course
If you are still looking for a way to do better for your oral and need a structured approach to craft your answers in the stimulus-based conversation section, we are happy to share with you that our online oral course, "Lil' Chatterbox" is now available!
Other than our compilation of vocabulary, you will also be getting the videos to walk you through our simple yet effective framework to answer the SBC questions as well as the Oral Workbook consisting of 10 practices with model answers. Find out more about this essential PSLE English oral course here now.
Ms Jocelyn is an English Teacher at Lil' but Mighty. Equipped with knowledge of the English Language system and an interactive teaching style, Ms Jocelyn has helped many of her students excel in their school assignments and examinations. As a dedicated educator, she believes in creating a safe and stimulating environment in which learners are encouraged to explore their strengths, initiate ideas and unleash their full potential.